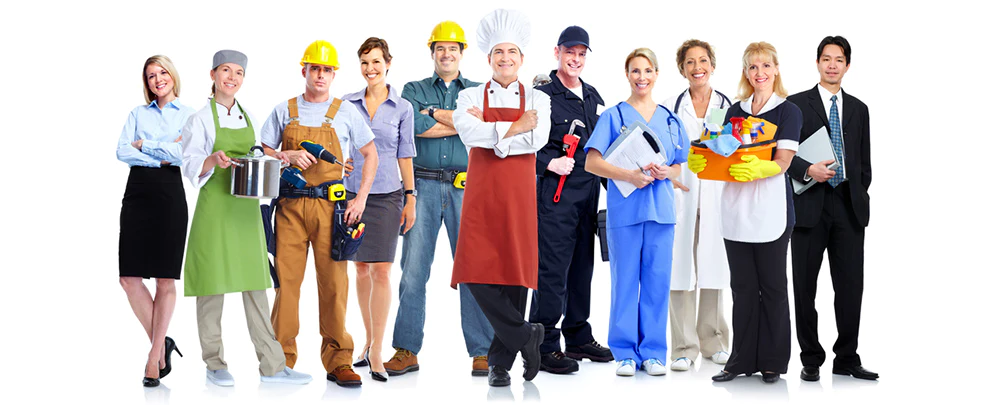 Workwear and uniforms can provide a variety of benefits for both employers and employees. One of the main benefits is improved customer service. When employees are dressed in a uniform, they often feel more professional and are better able to represent the company. This can lead to higher customer satisfaction and improved customer service.
Another benefit of work uniforms is increased team cohesion and collaboration. When employees are dressed in the same attire, they may feel more connected to each other and the company as a whole. This can lead to better communication and teamwork among employees.
In addition, work uniforms can also enhance safety in the workplace. Some uniforms, such as those worn in construction or manufacturing environments, may include safety features such as reflective tape or sturdy footwear to protect employees from hazards on the job.
Work uniforms can also improve the image of a company. A professional and well-designed uniform can make a positive impression on clients and customers, as it reflects the values and standards of the company.
There are several companies that offer high-quality work uniforms, including JB's Wear, Biz Collections, and Winning Spirit. JB's Wear is a Australian-based company that offers a wide range of workwear and corporate clothing, including polo shirts, work shirts, and outerwear. Biz Collections is another Australian company that provides stylish and professional workwear options, including suits, dresses, and trousers. Winning Spirit is an Australian sportswear brand that offers a variety of performance and team wear, including tracksuits, sports bras, and training tops.
Overall, work uniforms can provide numerous benefits for both employers and employees. From improved customer service to increased team cohesion and enhanced safety, work uniforms can play a crucial role in the success of a company. Contact us for more info
Screenprinting
Our most commonly used method on most apparel and signage. It's the most cost effective way to get your logo seen. We offer a range of special printing varieties like fluoro printing, shimmery and glitter prints, foil prints and puff prints. We specialise in quality T Shirt screen printing and offer a range of printing styles to meet all your screen printing needs. Whether you are a corporate wholesale client, fashion label, sporting team, school or in fact anyone needing printed apparel or promotional products we can help. 
Embroidery
The method we use most commonly on headwear, polo shirts and business shirts. Embroidery represents high quality and looks great. We use the latest technology and highest quality products to product custom embroidery for your business, club, organisation or sports team. With no minimums for your embroidery requirements and quick turn around times for those urgent embroidery jobs contact us today. We use computerised Embroidery machines with precise frame driving, giving more embroidery stability and allow greater Embroidery capabilities for quality and professional result. 
Digital transfers
We use digital transfers to apply full colour images onto both light and dark coloured garments on small quantities. This is the newest technology in garment production and is currently being adopted by major retail brands. The technology prints from a digital file directly into the clothing fabric.
Artwork & design
Our art department is available to design and develop artwork when required. 
Computerised vinyls
We can custom cut vinyl lettering and numbers for your work or sporting gear. We also cut logos out of vinyl depending on the detail and size of the logo.